Montenegro is one of the most beautiful countries in the world. It's so quaint and picture-perfect that it almost feels unreal at times. The beauty around you seems to be straight out of an old painting or a modern movie set that carefully reconstructed a world you didn't know existed anymore. In this post, we include 33 photos of Montenegro that will make you want to book a trip to this country!
How We Ended Up in Montenegro
We fell in love with Montenegro before we ever set foot on this small Balkan country. It all started with a post about Kotor from one of our favorite travel bloggers. Once I, Maria, had seen the breathtaking views to the Bay of Kotor and the Adriatic Sea, I added Montenegro to the list of places I needed to visit as soon as possible. Just months before, we had had a wonderful trip across Bulgaria, and I was eager to go back to the Balkans. Impatient as I am, I nagged Rui every day about the idea. I checked flights, itineraries, and dreamed of the day I would turn all the photos of Montenegro I had seen into a reality. One night, Rui surprised me with a small envelope. Inside, there were the tickets that would take us back to the Balkans, all the five flights that would make it possible. To make our trip economically feasible we had to find the cheapest flights options, and use the time wisely to explore other areas nearby. Our flight itinerary was tiring: we would go from Lisbon to Barcelona, spend a night at the airport, and head towards Dubrovnik. In the Balkans, we traveled by bus, and to return to Portugal we needed three flights: Sarajevo to Brussels, Brussels to Toulouse, and Toulouse to Lisbon. For some people, learning this tiring itinerary would be a nightmare, for me, it was a dream come true!
If you're traveling to Montenegro, chances are that you can find easier flight options. The country is small, and you can use different airports to reach it. The most commonly used are Podgorica and Tivat Airport, as well as the Dubrovnik Airport in neighboring Croatia.
Photos of Montenegro and Why You Need to Visit
With an area of less than fourteen thousand square miles, Montenegro is one of the smallest countries in the world, as well as one of Europe's youngest. After a referendum on independence, the Montenegrin Parliament declared the country's independence in 2006. Before, it was part of Serbia, which had before been part of Yugoslavia. There's certainly a lot more to the country's history, but while there we were almost completely absorbed by its scenic landscapes. Despite its small size, there's no shortage of grandiose nature, charming architecture, and breathtaking views. So much so that not even these photos of Montenegro do it justice.
The Image of Montenegro that Inspired Us To Visit
Our love for this Balkan nation started with a photo similar to the one you find above. In it you can see the Bay of Kotor in all its glory, captured from the steep steps of the Kotor City Walls. The water is as blue as the eye can see, surrounded by what many call the southernmost fjords in Europe. After analyzing countless pictures of this view before our trip, we were afraid that we had set our expectations too high. That maybe it was more of an image, than a reality. We were completely wrong. Our expectations were surpassed by what we got to witness from these steps, and we were actually convinced that no photo could ever fully show the beauty this place has to offer.
Who Should Visit Montenegro
We might seem a bit biased at first, but hopefully, by the end of this post, these pictures of Montenegro will convince you that everyone should visit this stunning European nation. Montenegro is much more than its pretty views. It's a haven for all those who love nature, culture, adventure, and good food. There's plenty to explore, from the bay to the mountainous national parks, to the cities, each so unique. If you're seeking a relaxing vacation, filled with sun and sea, Montenegro is a great idea. If you're looking for adventure and folk scenery, Montenegro is also a great idea. If you're searching for delicious food for reasonable prices, Montenegro is the country to go: with its flavorful seafood, and eclectic mix of cuisine influences.
Montenegro is also a very hospitable country. Tourism is one of the fastest growing industries in the region, and everyone is dedicated to making tourists feel welcomed. There is a running joke among Montenegrins that they're lazy and slow, but that was not the experience we had at all. It was only something we heard about and read across the postcard stands. Service was efficient, and people were always eager to help. However, it's true that it's quite a relaxing place. How could it not be with all the stunning nature around you?
Where to Go in Montenegro
We didn't get to see everything the country has to offer. It was not only that we didn't have much time, but mostly that we didn't want to rush from one place to the other. It's easy to do it here, the country is compact and the list of things to see almost endless. However, while you're there you feel compelled to dedicate time and careful attention to each of the places you visit, to each landscape you see.
We will be sharing our detailed Montenegro itinerary soon, but for now, we'll leave you with some of the beautiful photos of the places we did visit. We used Kotor, more specifically its stunning Old Town, as a base. It's not the definition of budget, but we were able to find an affordable apartment online, and we wanted to have the experience of living in this dreamy destination, even if only for a few nights. From there, we visited the Lóvcen National Park, Perast, Crnojević river, the Skadar Lake, Cetinje, and Budva – we told you there was a lot to see! Still, there are still quite a few places on our "to visit" list once we go back to Montenegro, namely, the Đurđevića Tara Bridge, the Durmitor National Park, the Ostrog Monastery, Sveti Stefan, and the capital, Podgorica.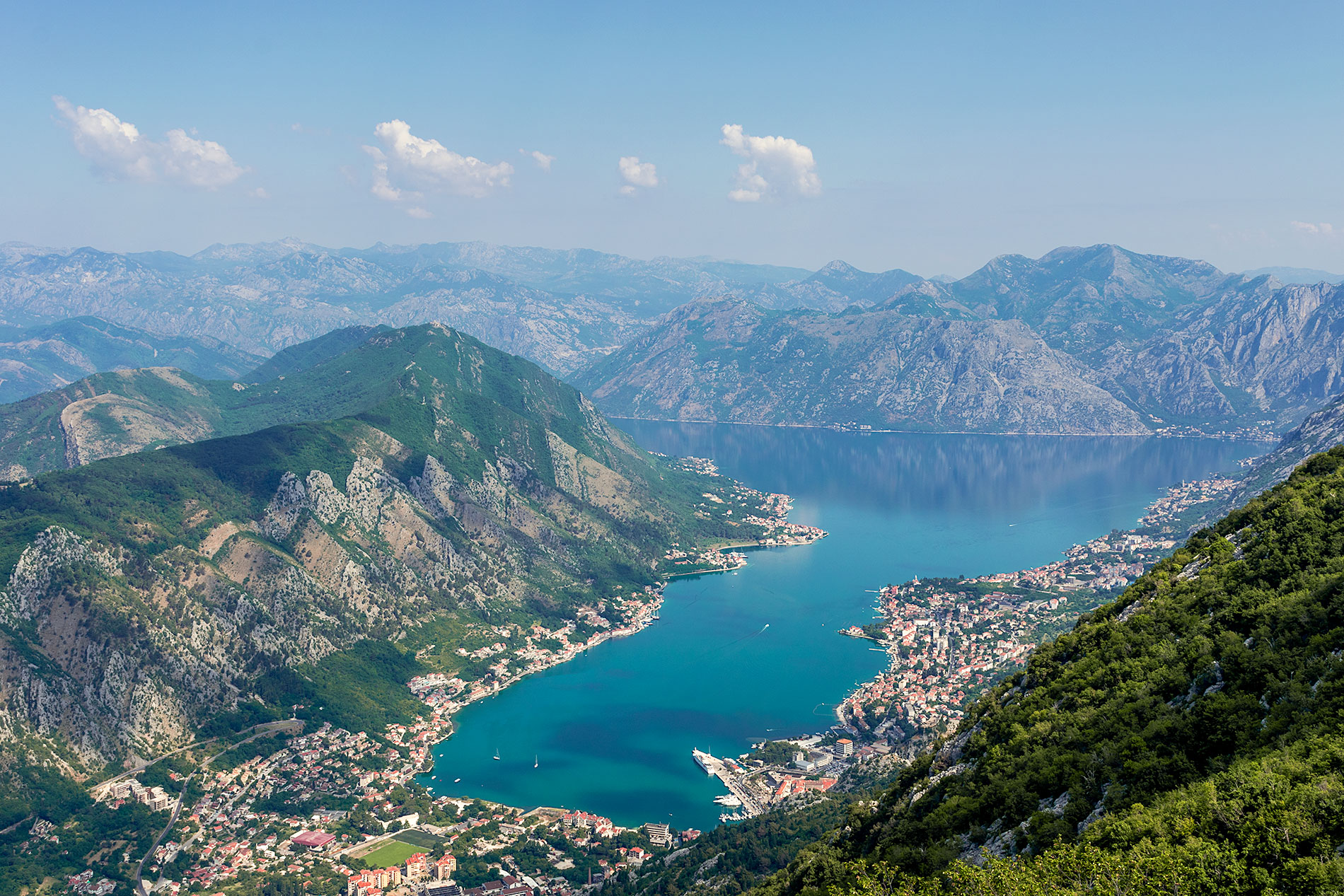 Tips for Taking Beautiful Photos of Montenegro
After our stay in Montenegro, we think we can provide you not only with photography tips to make sure you take the most beautiful images of Montenegro, but also travel tips to allow you to fully enjoy all that this country has to offer. Sometimes stunning places aren't the easiest to capture. As many photographers claim, just because a place is magically scenic, it doesn't automatically make it photogenic. However, Montenegro is stunning both through your eyes and through the lens of your camera. So much so that it can be hard to get a bad photo of this Balkan country. Nevertheless, below you can find some tips on the best way to see and to capture the beauty of Montenegro.
Wake up early
It may be the first time you're reading about Montenegro, but the country is visited by thousands of tourists every year. During the Summer, the Old Town of Kotor gets crowded with people from all over the world. It can be hard to truly appreciate the historical architecture around you when all you can really see are the people around you.
Waking up early is great for two reasons: you get alluring light and empty streets. In the early morning, Kotor feels like an open-air museum that you can have all to yourself. It's also wonderful to see the city wake up: the first windows start to open, and (mostly) the locals get out to start their days.
If you're passionate about photography, you'll know that light is a crucial element to get stunning results, and there are two times of the day that stand out for the light quality: sunrise, and sunset. If you're visiting in the low season, it's possible that you'll be able to make full use of the sunset. However, during the high season of Summer, everybody will be out to enjoy the sunset as well, so sunrise is your best bet to get beautiful photos of Montenegro. We've written before that Kotor is one of the best Spring destinations, the weather is milder, and there are fewer people on the streets.
Pay attention to both the big picture and the small details
Montenegro is filled with grandiose views and stunning landscapes that constantly leave you awe-struck. Many of the scenes you see seem straight out of an epic movie, and you'll want to see and capture all of these breathtaking sights. However, as you explore Montenegro, it's also important to take the time to delve into the small details, which are just as stunning. Learn about the grandiose views and the components that constitute them. Go inside every building that you can, and inspect the finer details. This way, you'll find plenty of photos of Montenegro that you've never seen before, but that are also part of what makes this destination so magical.
Try different angles
Following up on the previous tip, whether you're photographing magnificent landscapes or small details, it's important to try different angles and find new perspectives to photograph. Even though Montenegro is still considered a hidden gem by many, the reality is that this Balkan country has been photographed countless times. Even though the classical photos of Montenegro are the ones that may inspire you to visit the country, once you're there it's important that you find your own frames, your own interpretation of each of the places you visit. In that journey, you might yourself by creating new classical photos of Montenegro, that will end up covering countless postcards and articles on the country.
Even if we're all photographing the same thing, it's possible that we all create different results – we just have to be creative! In an age of Instagram, when everyone seems to be copying the photos they know will work on the platform, dare to be different and to create unique images. In the end, those will be the ones that truly stand out.
It's not all about the coast
In almost every photo of Montenegro you see, the Adriatic Sea will appear as one of the main subjects. The country's coast is lined with beaches, and water as blue as the eye can see. However, you could easily fill a book of stunning photos of Montenegro without the sea appearing once: there's plenty of other things to see and to take pictures of. Make sure to leave the beach on time to explore the beautiful cities that also line the coast. Kotor is on the UNESCO World Heritage List, in part for the well-preserved monuments you find there, many of which date back to the Middle Ages. It does seem straight out of a dreamy painting.
However, as we've mentioned before, there's a lot more to see, including rugged mountains, stunning lakes, historical cities, and the changing capital of Podgorica. Make sure you plan your trip to include at least some of these locations. Due to its small size, Montenegro is the perfect country to combine everything: you can go from the calm sea of Kotor to the staggering Mount Lovćen in under an hour.
Photos of Montenegro: Are You Ready to Book Your Ticket?
We don't know exactly what made you click through this article. Maybe you have visited Montenegro and were eager to reminisce about it, or maybe you're already planning a trip you've booked. But the truth is that we've prepared this post to show those who've never really considered Montenegro as a travel destination how much it truly deserves to be visited. And to continue with the honesty, the fact is that Montenegro isn't a hidden gem that remains quiet and unchanged by visitors. Tourism is a growing industry in the country, and places such as Kotor and Budva are already visited by thousands of travelers every year. It's inevitable that it will keep changing. We encourage you to book your trip and to dedicate some time to Montenegro. Many people visit as a day trip from Dubrovnik, or as a day stop in a cruise, but as we've hopefully shown you through these photos, Montenegro deserves a lot more of your time. We're certainly dreaming of the day we go back.
Pin this post for later!